Considered questions and comments arising from free to ALL "shape issue" pdf.
03-11-2011, 12:44 AM
Derek
CAVEMAN SCIENTIST


Posts: 2,126
Joined: Jul 2009
Reputation: 10
RE: Considered questions and comments arising from free to ALL pdf.
OK, so the above plot is not actually perfectly correct, but it is pretty close to what I understand is the flat shape that is modelled.
How do I correct what needs to be corrected, AND how do I illustrate how I understand the disc shape modelled is curved?
Well, it occurs to me to use an approach I have previously used in my "tangerine projection" of how to view the world oceans, that some may remember from here.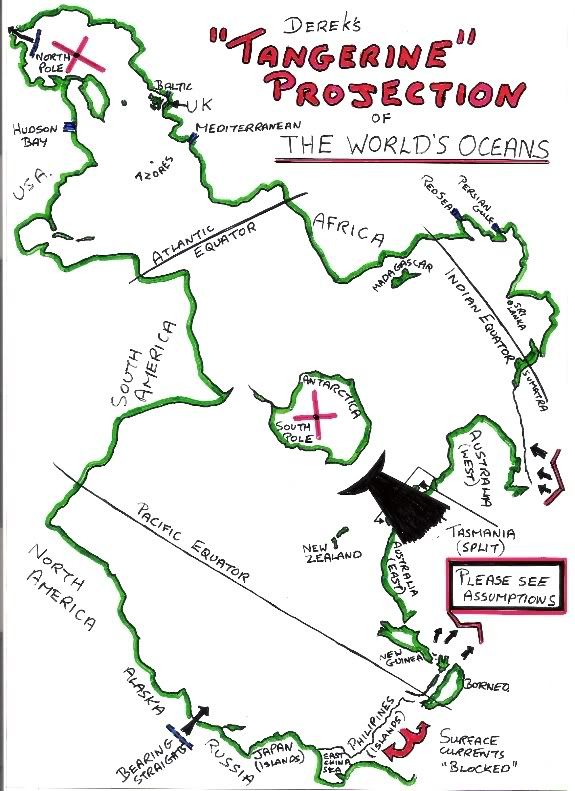 I am not sure now if the appropriate thread was on the old forum, so is no longer available, but
the photobucket folder is still a public one.
http://s53.photobucket.com/albums/g43/De...20project/
Photobucket - DerekJohn photos - Tangerine project.
I think in the case of climate modelling it should be possible to use the "technique" in reverse to
produce a 2 page pdf that could be printed off, and then,
in the best traditions of Blue Peter (UK), and Sesame Street (USA) you could
make your own model of what the climate models actually model "shape" wise..
Maybe you could stand in the middle of a room and rotate your model, and see if
the visual trick employed by climate modelling (wrapping a disc around a globe, then spinning the resulting globe) to
display the models "output" is really quite as good, or convincing, as it has appeared to be, so far.
(Having a friend run around the outside of the room in time with your models revolving would help,
especially if they are dressed in a mock "sun" costume)
User(s) browsing this thread: 1 Guest(s)