THE 3 forms of heat loss from an object or surface at earth's surface are...
04-07-2012, 08:16 AM
Derek
CAVEMAN SCIENTIST


Posts: 2,126
Joined: Jul 2009
Reputation: 10
RE: THE 3 forms of heat loss from an object or surface at earth's surface are...
(04-05-2012 05:42 AM)

Climate Realist Wrote: We are having a discussion about the relative importance of latent heat versus convection.
And,
(04-05-2012 05:42 AM)

Climate Realist Wrote: Convection occurs when a packet of air is heated, the air expands due to the extra heat and because the air has expanded it becomes less dense than before and therefore rises. No latent heat needed here, this is why you get convection in the desert. Conduction yes, latent heat not necessarily!
And,
(04-05-2012 05:42 AM)

Climate Realist Wrote: It seems to me you have specifically got confused between heat transfer by latent heat, i.e. water evaporating and the water vapour cloud rising and heat transfer by convection, i.e. hot ground conducts and radiates to the cooler air, this air warms, then expands and rises.
They are similar, but not quite the same thing as latent heat involves a change of state caused by heat and dry convection is merely the expansion of a gas by heating it. No change of physical state occurs in convection, merely an expansion of the gaseous state.
I may be reading the above quotes incorrectly, but you appear to me to be saying only conduction causes convection. Am I correct in this interpretation?
Water vapour is lighter than air, molecular weights show this, therefore moist air is lighter than dry air. This is also a cause of convection, possibly a cause that may have eluded many people.
In short, I am saying there is more than one cause (conduction of sensible heat) of convection. Latent heat losses are in fact of greater importance overall as a cause of convection .
I am also suggesting that latent heat losses are a more powerful cause of convection than the conduction of sensible heat. I will use the Fridge for Africa to illustrate this most important point.
Amazing solar-powered fridge invented by British student in a potting shed helps poverty-stricken Africans
"
Her 'sustainable' fridge works through evaporation and can be used to keep perishable goods such as milk and meat cool for days.

Without using any power, temperatures stay at around 6c.

The fridge comprises two cylinders - one inside the other. The inner cylinder is made from metal but the outer cylinder can be made from anything to hand, including wood and plastic.
"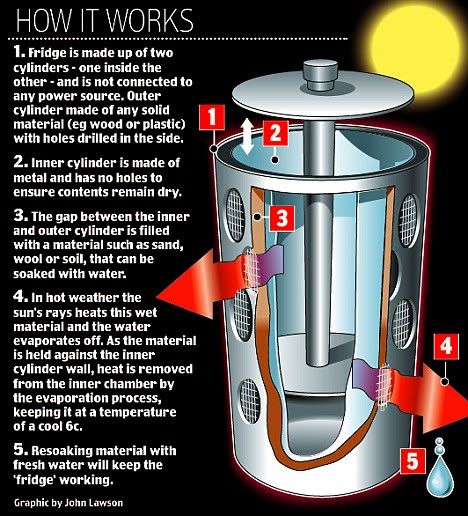 Please note point 5 in the above diagram.
"
Resoaking the material with fresh water will keep the "fridge" working.
"
This fridge works because of latent heat losses, obviously. But, it also illustrates another point. The fridge is being cooled far more than the surroundings, because it has a damp lining that water evaporates from. If this only occurred by diffusion then the heat losses would be greatly reduced, so there must be convection associated, and because of the water being evaporated. I suggest this shows that the convection caused by evaporation is far more powerful than the convection caused by conduction, otherwise why is the fridge so cool compared to it's surroundings that are cooled by conduction and convection?
I find it saddening that the Daily Mail newspaper and seemingly every other link I can find on the net referring to this fridge call it a solar powered fridge, when in fact it is clearly a latent heat losses caused by the vapourisation of water and the convection that causes powered fridge.
(04-02-2012 03:48 PM)

Climate Realist Wrote: A fridge works by compressing a gas which due to the pressure increase, gives off heat. This gas is then expanded which then cools and is passed through a heat exchanger inside the fridge to remove heat from the contents. Much in the same way that air expands as it heats, rises, loses heat to the upper atmosphere which then radiates this heat to space, then the air cools, becomes more dense and sinks to the bottom of the atmosphere.

Yes, fridges use phase changes as well and therefore latent heat plays a part, but I think as latent heat is only involved in the case of phase changes (solid to liquid to gas etc), that you have confused yourself somewhat and that as latent heat can only be a factor during phase changes and in the case of the earth where water is present, then convection has to be the major player. Convection and radiation occur everywhere! Convection is the reason why the earths atmosphere stays warm at night, due to the slowness of convection. Latent heat due to changes in the state of water has to be a lesser player.
Being fairly sure of my understanding of how a fridge (and a heat pipe works), I quickly looked this up on the internet, I found the following.
http://www.ior.org.uk/ior_/fantastic_fri...gediag.htm
Please note vapourisation within the fridge removes heat from within the fridge (in heat pipe terms – heat in), and upon (forced) condensation, heat is released at the vent fins (in heat pipe terms – heat out).
All by using the power of latent heat. Latent heat therefore is the operating principle and THE power to cool of a fridge.
Here is another link that also explains how a fridge works, on which I found pages 3 and 5 particularly relevant to this discussion.
http://home.howstuffworks.com/refrigerator.htm
(04-05-2012 05:42 AM)

Climate Realist Wrote: I don't know what your scientific background is, but I have a degree in chemistry and worked as a chemist for 20 years in industry. It is from this education and experience that I draw my ideas and conclusions.
I have said I have no academic, and I will add or formal, scientific training. However, in science that is not a problem, because science is inclusive, not exclusive. How? The scientific method includes EVERYONE, that is it's purpose. I am permanently grateful to most notably Dr Richard S Courtney, and Luther Haave, because when I helped produce the Cause and Effect paper that Luther and I did together the scientific method was explained as our starting point and method. I will quote from that paper what we wrote in regards of describing the scientific method.
Quote from Cause and Effect paper.
Furthermore, some scientists have become advocates of the hypothesis of enhanced greenhouse effect. Kary Mullis, won the Nobel Prize for Chemistry in 1993, and he writes in his book, Dancing Naked in the Mind Field, of such advocates.
"
Scientists who speak out strongly about future ecological disaster and promote the notion that humans are responsible for any changes going on are highly suspect.
Turn off the TV. Read your elementary science textbooks.
You need to know what they are up to.
It's every man for himself as usual, and you are on your own.
"
This paper attempts to aid non-scientists to assess scientific opinions on climate change and to discern the advocates whom Mullis condemns. The assessment requires no scientific knowledge except a basic understanding of the scientific method as explained by Karl Popper ref.17.
Popper argued that all science is based on hypotheses that must be tested to destruction. Sound evidence which does not fit with the hypothesis must logically cause it to be rejected. However, the other side of the same coin is that no hypothesis can ever be said to be proven. Over time, the body of evidence consistent with a successful hypothesis builds up to the extent that it becomes regarded as a theory, for example the theory of General Relativity, or Tectonic Plate theory.
Thomas Kuhn provided a different view of how scientists work18. He introduced the concept of "normal science" to cover the situation where scientists work on various topics within a central paradigm. In contrast to Popper, the Kuhnian view is that "wrong" results (i.e. those which are in conflict with the prevailing paradigm) are considered to be due to errors on the part of the researcher rather than findings which damage the consensus view. However, as conflicting evidence increases, a crisis point is reached where a new consensus view is arrived at and this generates a so-called paradigm shift. Simply, Kuhn says scientists are human and have human prejudices.
Advocates of the AGW hypothesis promote Kuhn"s view and repeatedly cite "consensus" as evidence. Simply, they proclaim that the number of "experts" who hold an opinion is "evidence" that the opinion is correct. But opinions are formed by many things – including personal prejudices – so "consensus" is no help to persons who wish to discern the expert opinions that most closely match physical reality.
Popper"s philosophy of science is more useful for those who want to decide between competing scientific opinions. According to Popper, the scientific method has the following steps.
1)
Observe (preferably empirical data).
2)
Explain the observation and or observations (hypothesis).
3)
Test the explanation by an experiment (i.e. evaluate a prediction from the hypothesis).
It should be noted that an experiment may consist of looking for information which would confirm or deny the hypothesis, and this is usual in subjects such as climatology and cosmology because climates and stars cannot be altered to conduct a test.
4)
Analyze the experimental results and draw a conclusion.
5)
(a) The hypothesis is supported if the experiment confirms the prediction and it may be on its way to being accepted as a scientific theory if others are able to independently duplicate the experimental results.
(b) The hypothesis is rejected if the experiment demonstrates that the prediction was incorrect. In this case it is necessary to return to steps 2), 3) and 4), and this loop is repeated until a hypothesis is obtained which is supported by experimental results.
6)
Openly publish the experiment"s methodology, results and data.
The publication should include discussion and evaluation of all known possible problems and reservations concerning the study it reports.
This method revolutionised human society with the enlightenment. One of its great powers is that it enables non-experts to discern when experts are mistaken. This power was clearly expressed by Thomas Huxley who said;
"
Science is organized common sense where many a beautiful theory was killed by an ugly fact.
"
And
"
The deepest sin of the human mind is to believe things without evidence.
"
So, when considering the competing claims of scientific experts it is necessary to decide
1. if supporters of one hypothesis have presented an "ugly fact" that defeats an opposing hypothesis, and
2. to ignore the opinions of experts and, instead, to consider the evidence which supports the hypothesis which they present.
Importantly, it should always be kept in mind that all presented hypotheses could be wrong so an "ugly fact" that defeats one understanding of an issue is not evidence that another understanding is correct.
Reference 17
17. Karl R. Popper. The Logic of Scientific Discovery. 1958 English translation.
http://www.questia.com/PM.qst?a=o&d=9219121
End of quote.
I have kept in mind the above quote whilst developing the experiments on the Home experiments to show the power of latent heat thread that I referred and linked to earlier in this thread. It is also why I frequently post, words to the effect, comments / suggestions invited in my posts on numerous threads on this forum. I am trying to be open, I am trying to follow the scientific method.
All that said and hopefully explained clearly and understandably in an open manner, my apologies to all, I am still developing my discussion skills, which are not too hot at present.
Or is that just an expression of the frustrations of all the misrepresentations we have all been fed and have to overcome…
---
The whole aim of practical politics is to keep the populace alarmed
(and hence clamorous to be led to safety)
by menacing it with an endless series of hobgoblins, all of them imaginary.


H. L. Mencken

.

The hobgoblins

have to be imaginary

so that
"they" can offer their solutions, not THE solutions.
User(s) browsing this thread: 1 Guest(s)