THE 3 forms of heat loss from an object or surface at earth's surface are...
04-12-2012, 12:23 PM
Derek
CAVEMAN SCIENTIST


Posts: 2,126
Joined: Jul 2009
Reputation: 10
RE: THE 3 forms of heat loss from an object or surface at earth's surface are...
It was suggested by a poster on this thread that I encourage and engage in strong discussion of the ideas that I am trying to explain and illustrate.
I think I have done such, to no reply.
Another everyday example has sprung to my mind that may also help illustrate. It starts with a simple question, as follows.
What does "failed" double glazing show???
Double glazing works by confining an amount of air between two panes of glass as a sealed unit. The trapped gas is dry air. (We discussed this on the forum some time back, if anyone can remember the thread, please, please post a link.) Dry air, as Climate Realist has already stated in this thread is a very poor conductor of heat. The heat of the house interior where double glazing is fitted escapes very slowly to the comparative sensible cold outside of the house.
Double glazing (DG) is said, quite accurately, to have "failed" when the seal between the two panes develops a leak. A leak by which moist air can enter the DG unit as temperature varies over the course of a day and night. This failure is very obvious as condensation appears between the glass panes of the DG unit. The now not sealed unit no longer "works". Heat easily escapes from inside to outside of the house. WHY? What changed? The only visible difference is that a failed DG unit has a little water condensation inside of it. Surely that alone can not make much of a difference??? Yes, it can and does.
Let us consider this by taking a step backwards, back to when a DG unit worked, ie before it failed.
In a working DG unit the dry air is warmed by one pane of glass, and so the heated air expands and convects within the confines of the DG unit. When this air reaches the cooler (outer) pane it's sensible heat is conducted to the cooler pane of glass. This warms the the second pane of glass with heat transferred by conduction of the hot air from the first (inner) warmed pane of glass. The second (outer) pane is now warmed and conducts and convects the heat away to the colder outside air. Because heat transfer from inside to the outside happens at a far slower rate than for a single pane of glass window then rooms with DG units stay warmer for far, far longer. This is because of the the very poor conduction by dry air of sensible heat, which reduces the rate of heat loss from the room.
Figure 1 to be added - a "dry" heat pipe....
Yes, I know such a thing does not exist, but it is how DG works.
In a failed DG unit Figure 1 is little altered, as shown below in Figure 2
Figure 2 to be added. A "wet" heat pipe.
Yes, I know it ain't a heat pipe unless it uses latent heat.....
A heat pipe is,
Figure 3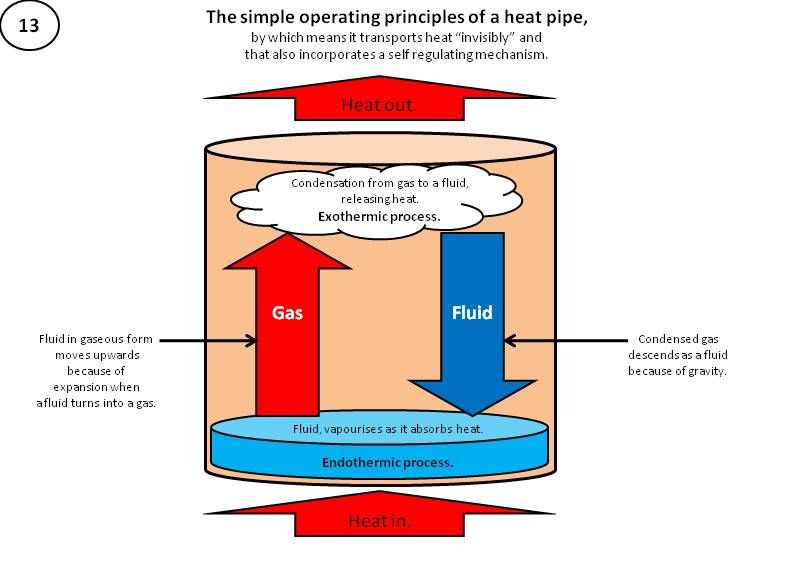 Some examples of heat pipes.
Figure 4.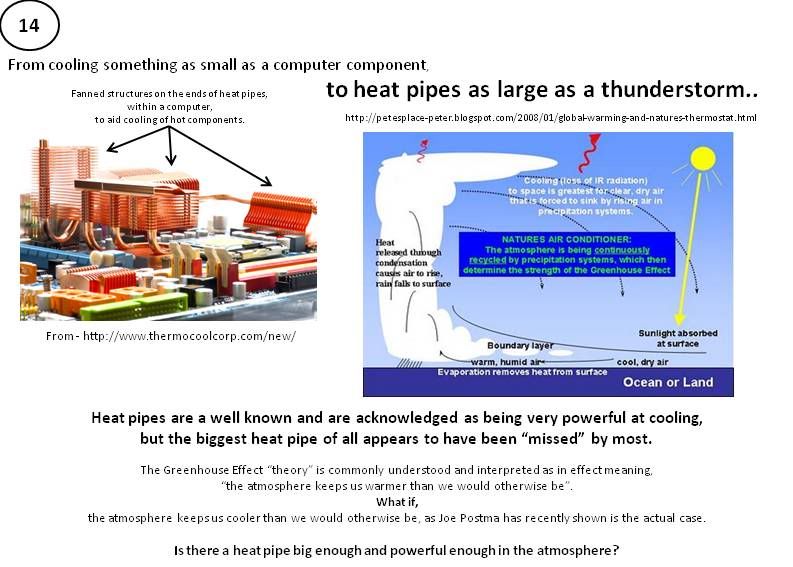 If you look at Figure 3 it is quite apparent that it is actually just turned on it's side for Figure 2. In other words,a failed DG unit does not work, it does not slow heat transfer, it dramatically increases heat transfer. Just by the leaking seal of the DG unit turning it from a "dry" to a "wet" heat pipe.
Given the above it is now reasonable that we can answer the question "What does "failed" double glazing show???"
1) It shows that a DG unit works because it contains dry air. It is in effect a "dry" heat pipe. This isa very effect way of reducing heat loss from a heated room because dry air is a very poor conductor of sensible heat. In other words, in air conduction and convection are very weak heat loss and transfer processes, and mechanisms.
2) A failed DG unit shows that a "wet" heat pipe can transfer / transport large amounts of heat very quickly from one place (of evaporation) to another place (where condensation is occurring). This is due to the energies required by the changes of state from liquid to gas, and back to liquid again, and again, and again.
In other words latent heat transfered by the change of states of water are of vastly greater power and conduction of heat by dry air.
3) The water cycle in earth's climate is a "wet" heat pipe.
Figure 5.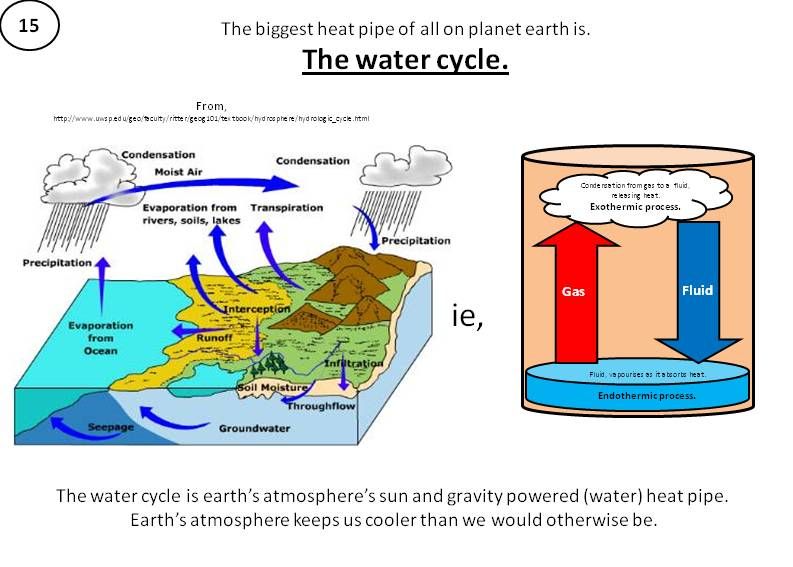 4) The vast difference in the capability to move heat betwwen a "dry" and a "wet" heat pipe, as I have descried them here, also strongly suggests, if not proves that water in it's various states must be the dominant force within earth's climate system. This is because the water cycle is a "wet" heat pipe, which is the strongest, most powerful, and of greatest importance overall cooling mechanism on earths surface.
---
The whole aim of practical politics is to keep the populace alarmed
(and hence clamorous to be led to safety)
by menacing it with an endless series of hobgoblins, all of them imaginary.


H. L. Mencken

.

The hobgoblins

have to be imaginary

so that
"they" can offer their solutions, not THE solutions.
User(s) browsing this thread: 1 Guest(s)