THAT Josh sky dragon cartoon.
03-03-2011, 01:02 AM
(This post was last modified: 03-03-2011 01:07 AM by Derek.)
Derek
CAVEMAN SCIENTIST


Posts: 2,126
Joined: Jul 2009
Reputation: 10
THAT Josh sky dragon cartoon.
Hi All,
The below Josh cartoon does seem to have caused a bit of a stir, and a little confusion.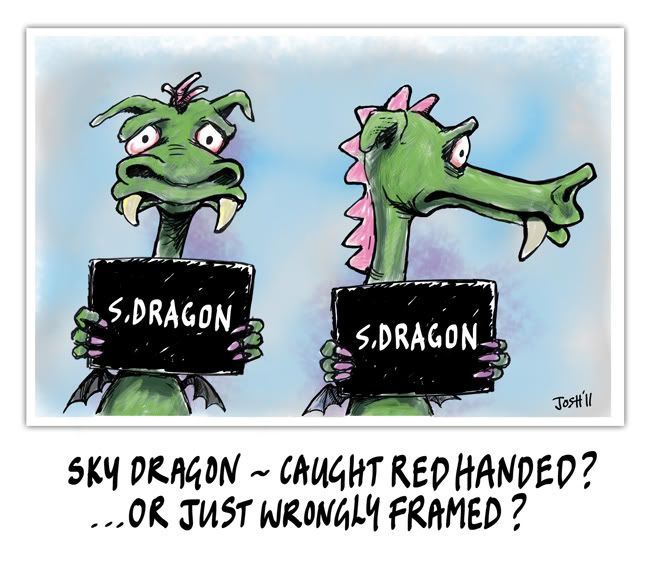 So, with the aim of hopefully clearing things up a little,
I have posted at WUWT the following, on this thread there.
http://wattsupwiththat.com/2011/03/01/jo...ent-611843
Josh on Dragon Slaying
Posted on March 1, 2011 by Anthony Watts
"
Josh – A brilliant cartoon.

Anthony – Congratulations for having the courage (and foresight) to post it.

All – The cartoon depicts as I see it.
The sky dragon has not only been convicted but is incarcerated,
awaiting the final (DEATH) penalty.
The dragon's expression is it saying,
" Al, James, Gavin, Phil, Keith,
SAVE ME."

But it will NOT be saved, not by the named above,
not by the UN,
not by the EU,
not by the IPCC,
not by the pseudo science "consensus",
nor, even by the "true believers" of
this patently sky dragon, flat earth society that (CO2) AGW is.
ALL BECAUSE OF THE CONTENTS FROM VARIOUS AUTHORS OF ONE BOOK.
http://slayingtheskydragon.com/view-sample-chapters
"
---
The whole aim of practical politics is to keep the populace alarmed
(and hence clamorous to be led to safety)
by menacing it with an endless series of hobgoblins, all of them imaginary.


H. L. Mencken

.

The hobgoblins

have to be imaginary

so that
"they" can offer their solutions, not THE solutions.
03-06-2011, 07:18 AM
RE: THAT Josh sky dragon cartoon.
If the dragon grew some fur of a different colour (generally green is not a good colour for sympathy votes) and slightly larger eyes, it would have got 'endangered species' protection. Sadly, the UN missed this one.
---
"Correlation is NOT Causation"
User(s) browsing this thread: 1 Guest(s)