Please be aware this is a work-in-progress.
Hi All,
I have now been helpfully advised by several different and well meaning people to "take a break".
I will, with a "condition". For some reason I can not fathom, I "have" to post "things" to get others opinions.
Sometimes I find this very useful, sometimes not..
Whatever, I will keep myself to this thread only (self imposed) for the foreseeable future,
as long as this is with the permission of Sunsettommy
call me "the sceptical Q" if you so wish......lol.
Part 1 - Trying to understand the "physics" of climate.
The seemingly mostly deliberate confusion and misinterpretation of "modern climate science" and "observations",
by the "consesus" and most "sceptics" alike in "accepting" unquestioningly the greenhouse effect as modelled at present.
The amount of contrary information around on the same subjects is startling, confusing, and I suspect it is supposed to be,
particularly with regards to climate science and the "physics" pertinent thereof.
I have yet again gone right back to basics, having gone and got all confused AGAIN.
For the time being I see the below as probably one of the best "explanations" I have found regarding
some of the central issues regarding the physics and absorbtion / emission / saturation particularly of CO2.
http://www.nov55.com/ntyg.html
CO2 Absorption Spectrum
There is no Valid Mechanism for CO2 Creating Global Warming
by Gary Novak.
Jim Peden produced this amusing (well it would be if "they" did not actually think it is true..)
AGW / CO2 oven diagram, based on how AGW / CO2 believers seem to think the greenhouse effect / black body radiation works.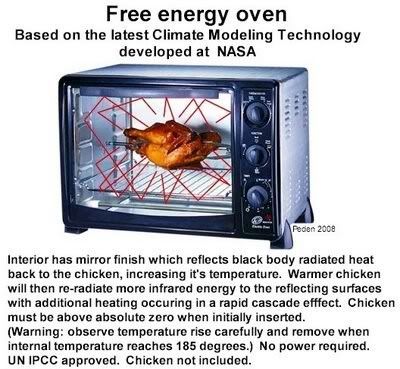 My first understanding of the above (and I hope to be corrected if wrong) is that an object radiates black body radiation according to it's own temperature.
So, this temperature determines the rate and wavelength of photons emitted.
In a perfectly reflecting container (impossible but let's go with it) the object could only ever recieve what it emitted, it could not recieve more than it emitted.. How could it.?
No temperature change would result, unless energy was created out of nothing, which simply can not happen.
I have realised (for my own understanding at least that) the easiest way to think of photons being absorbed by any object is
as plus, minus or the same, not adding to as AGW / CO2 tries to "persuade" us supposedly happens, and I think this is the point Jim is trying to illustrate.
If I have further understood it correctly, Jim has also illustrated above how the proposed greenhouse effect viloates the 2nd law of thermodynamics,
(this is really the same as the above paragraph, but phrased differently)
namely a cooler thing can not radiate at a high enough wavelength to heat a warmer object.
If a warmer object recieves radiation from a cooler thing, it must cool the warmer thing.
Again it may help to think of the photons being recieved as either plus, minus or the same, reletive to the object / molecule / etc absorbing.
Maybe the warmer thing would not cool as fast as it would of without having recieved the cooler radiation,
but that is still not heating the warmer thing, whichever way it is looked at - period.
Otherwise the run away heating would occur as depicted in the diagram, it does not, obviously. If only it did.
Finally regarding the AGW oven, it apparently assumes no conduction and convection of heat from the chicken to the air in the oven.
Does this mean the oven is a vacuum,. ?
We all know that the chicken put into the AGW oven will cool slightly because it will conduct it's heat to the air contained in the oven, OK.
Let us assume that indeed the oven is a perfect reflector, and it is perfectly insulated.
It would take a certain amount of time for the chicken and the air to reach a slightly lower equilibrium temperature,
chickens having a higher specific heat content than air.
OK, is it possible we can make the oven a lot bigger and the object a metal object (a steel ball for example) of
a known specific temperature when put in the oven (OK, if you insist you can use a chicken - as long as it's free range mind you).
Again it would take, in a perfectly insulated and reflecting oven a certain amount of time to reach a lower equilibrium temperature.
What would happen if we altered the atmospheric composition of the oven. ?
Say starting with very low humidity, and repeating with very high humidity,
or, more easily, first with an atmospheric CO2 level, and repeated with far larger CO2 levels.
I suggest that as the "anti greenhouse gases" are increased the heat dispersion would be faster,
so the steel ball and the atmosphere in the oven would reach their new lower equilibrium temperature quicker.
This would completely disprove the "greenhouse effect" gases supposed ability to trap or retain heat,
and prove the "anti greenhouse gases" ability to disperse black body radiation.
Am I right in this interpretation please people,
if indeed the steel ball and the atmosphere in the oven did reach a new lower equilibrium temperature quicker
with increased "anti greenhouse gas" levels. ?
Would this be the repeatable, verifiable experiment to disprove the greenhouse effect and AGW. ?
Phewww, quite an idea..
Below is a pdf that I feel more realistically covers what is probably actually happening in the planets atmosphere and climate.
http://www.ilovemycarbondioxide.com/pdf/...pycock.pdf
Greenhouse Effect Poppycock
Written by Alan Siddons, edited by Hans Schreuder
December 2008
Excerpt,
"
Most of the warming in the climate models comes from the assumption that
water vapor and precipitation increase as temperatures warm, a strong positive feedback.
Water vapor is a far more important "greenhouse gas" than CO2.
However, that assumption has been shown in observations and peer-reviewed research to be wrong, and
in fact water vapor and precipitation act as a negative feedback that
reduces any small "greenhouse warming" so incorrectly attributed to carbon dioxide.
http://www.energytribune.com/articles.cfm?aid=970
So what does all this mean? Let's put it together. It means that contrary to advertised,
water vapor is a major "anti-greenhouse gas" — a term that has to be put in quotes because
assuming that carbon dioxide is in any way a warming agent is also wrong, as is the whole "science of radiative forcing."

Not only will the trace gases need more energy to reach the same temperature as the air that contains them,
they will radiate it in all directions instantly and at the speed of light and thus
increase the efficiency of the air mass in cooling it, not warming it, in line with the first and second laws of thermodynamics.

There is also no need to provide a "blanket" to keep earth warm.
The vacuum of space acts like the most perfect thermos flask.
Space is not cold; it is empty, void of matter, and thus has no temperature.
"
CO2, but more importantly water vapour COOL the atmosphere, not warm it.
Here are a couple of other plots that contain much information relevant to the above links and their repercussions.
The sun heats the oceans.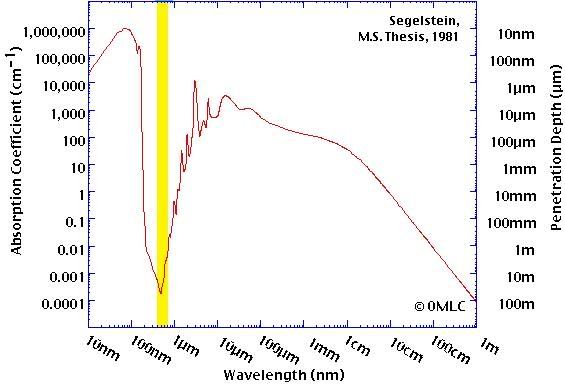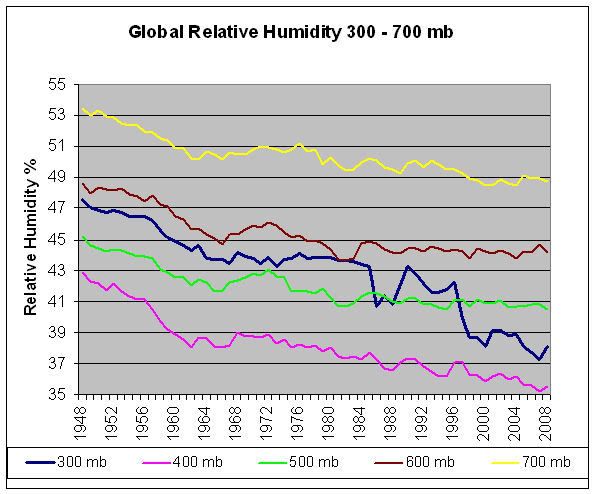 NB - Is this saying water vapour levels are falling, or do you have to include temperature first to determine that. ?
I have put together a pdf elsewhere on this forum regarding what is actually modelled,
even from the viewpoint of not challenging the "accepted" version of the Greenhouse effect "theory" the models do not stand up.
GCMs model something that can not be observed, has no experimental evidence for it,
and violate the first two laws of thermodynamics in it's mere proposal.
Add to this that none of the models projections have been correct,
then it is fairly obvious a new paradigm may well be worth considering,
to see if it offers a better understanding of what we observe.
Elsewhere I have tried raising the idea that discussions could be entered into "accepting" as a premise that there is no greenhouse effect,
maybe I should of added as modelled at present........
The discussion idea was simply quashed, it was forcibly, and obviously not allowed to be aired.
I was frankly shocked, and disgusted.
(Not for the first time in that arena that a reasonable basis for discussion I or others have tried to raise on various subjects
has been dealt with (mostly by the same people) in the same manner)
I am still a member "elsewhere" but I do not see the point in posting further,
given the way a reasonable basis for discussion was dealt with.
This including the justification of quashing such discussion by the stating of
the NASA "facts" regarding a 33K greenhouse effect...............
To my mind patently something very basic is amiss with the NASA basis.
So, such a discussion basis is justified by NASA's "facts", not
precluded by these same (almost certainly misinterpretted observations as) "facts".
--------------------------------------------------------------------
Part 2 - My "hunch".
Some time ago, whilst still in short trousers probably, I remember the lesson about onshore and offshore winds at the seaside.
You may well remember the same lesson, the land gets hotter in the day, and the air rises, so
air is sucked off the cooler ocean to replace the convected over land air.
An onshore daytime wind results.
At night the land cools and the air sinks, causing an offshore wind.
OK, but how about we view this slightly differently, the land does indeed during the day heat the air more.
That is because it is the surface that is warmed, so by conduction and hence convection the warmed air rises. Commonly "seen" as a heat haze.
The air rises, and so cooler (heavier) air is sucked in to replace it.
The day time onshore wind. Why though is the air over the ocean cooler than over the land. ?
Because sunlight penetrates water, and heats it to a depth of upto 150 metres, the surface of the water does not get as hot as the land surface.
At night what happens, the land cools and the air sinks, but also the oceanic waters release heat to the air.
So the air rises over the oceans, and is replaced by the cooler air from the land, an offshore wind.
How "big" is this effect, I suspect, damned enormous, hence my diagram below,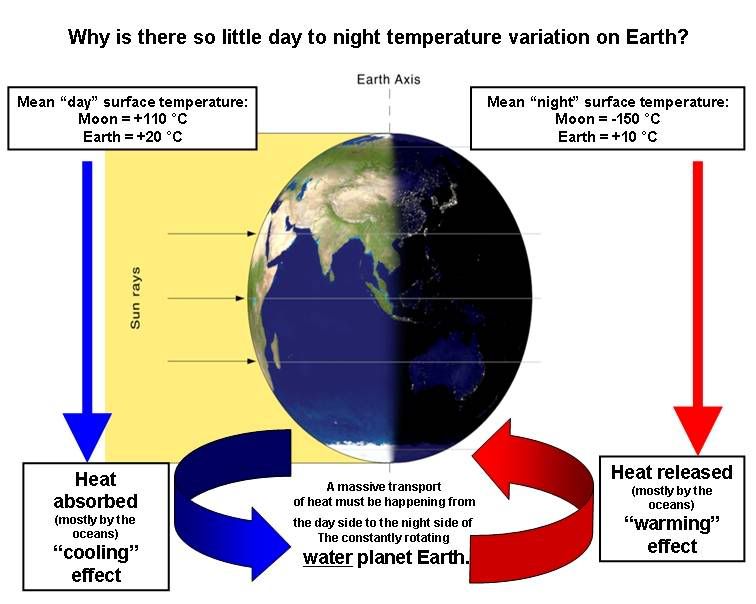 Stephen Wilde proposed the Hot Water Bottle Effect sometime ago now.
http://climaterealists.com/index.php?id=1487
THE HOT WATER BOTTLE EFFECT by Stephen Wilde
Wednesday, June 25th 2008,
I have mentioned this idea of mine above to Stephen Wilde, as at the time it was my intrepretation of the above effect he describes.
He stated that my version, was not his idea, but I wonder is the left over heat in the oceans from a daily basis,
recycled in the various oceanic cycles and phases as more or less heat release and therefore effecting global temperatures, is
really the same effect. If it is thought of as a sum of the residual heat left in the oceans, at a longer time scale,
namely the several decades of some oceanic phases.
I think it is.
Now I have come across this from Gary Novak,
http://www.nov55.com/icecause.html
http://www.nov55.com/gbwg.html
http://www.nov55.com/iceage.html
I certainly agree that geothermal heat inputs to the oceans is completely overlooked, usually excused by "we do not know"
- that ain't good enough to preclude discussion or consideration - period..
I take from this article by Gary Novak a proposed mechanism whereby the earth could loose large amounts of heat to space.
Heat that was previously "stored" in the oceans,
albeit part of which was being released (particularly at night) and keeping the planet warmer than it would otherise of been.
I would take the "triggered in 2008" as an attention grabbing headline / title to get discussion / consideration for the idea / proposal.
It may also be somewhere along the right lines.
I also get the feeling this is the same idea as my daily idea but on a far longer time scale (ie interglacial),
with other relevant factors included.
Much the same as could be said for Stephen Wilde's Hot Water Bottle Effect,
in releatiton to the idea I have described above, but on a multi decadal / oceanic phase time scale.
They are continuations of the same basic idea.
It really isn't my idea anyway, it is just applying an old explanation (onshore / off shore winds and their causes)
at a larger scale than appears to have been done previously.
- that is my "idea" as such.
--------------------------------------------------------------------
Part 3 - A suggestion for "Dumb discussions" cartoon.
I have already said present discussions of climate seem to have to be conducted with the "accepted" premise that there is a greenhouse effect as modelled.
I think this is holding back our improving of our understanding and baising our view and interpretation of the "observations".
For example here is a cartoon I hope to develop. I want to set the below which will hopefully be an "Ogri" style cartoon
based upon the idea of present climate discussions being publicly held around a table that unquestioningly accepts the as modelled greenhouse effect first,
on a stage in a large auditorium, the audience being the confused general public.
Off to one side of the auditorium there is a large room, with many "dissenting" wording emminanting from it.
This room is being deliberately kept away from the cameras all pointing at the main stage, and
there are "gate keepers" in the front of this side room stopping the "dissenting" words, and people getting on the stage.
NB - The "fish" would be moved to the back of the side room, hidden behind and underneath the other dissenting voices.
The "guards" or rather "double agents" at the front of the side room are well connected to the main group of consensus leamings.
They all have careers and reputations to protect...
Unlike me.
The whole aim of practical politics is to keep the populace alarmed
(and hence clamorous to be led to safety)
by menacing it with an endless series of hobgoblins, all of them imaginary.
H. L. Mencken
.  
The hobgoblins
have to be imaginary
so that
"they" can offer their solutions, not THE solutions.